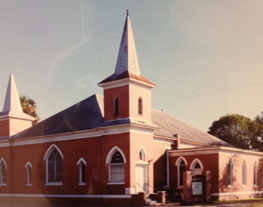 HISTORICAL HIGHLIGHTS
Following the Civil War within the Reconstruction Era, the institution known as Mount Tabor First Baptist Church was officially established. The church was organized during a "Wednesday Prayer Meeting," on the 15th day of September, 1869, in Palatka, Florida. The original meeting place was in the "Hudson Building" and the second meeting place was a nicely constructed "Brush Arbor" (a rough, open-sided shelter constructed of vertical poles driven into the ground with additional long poles laid across the top as support for a roof of brush, cut branches or hay) built with the choicest shrubs.
Within the first two years (1869-1871), three ministers, Reverend R. P. Bishop, Reverend Jones, and Reverend Samuel Small formed the ministerial council that ordained the first Deacons: Jackson Wright, Ned Hutchinson and James Arnold. Reverend William Bell served as the first regular pastor (1871-1889) and also served two subsequent pastorates (1896-1898) & (1900-1902). In 1887, during Reverend Bell's pastorate it became a reality for this band of Christian believers to leave the "brush arbor" and the congregation relocated to a newly built wooden church edifice at 913 Reid Street in downtown Palatka, which was dedicated on May 18, 1888. In 1912, the church facility was rebuilt under the leadership of Reverend F.W. Wells.
During the next era of more than three quarters of a century (1912-1990), seventeen pastoral servants provided spiritual guidance to the congregation and community. During this era, three of them provided pastoral care for over a decade respectively, Rev. L. N. Anderson (1917-1927), Rev. J. W. Walker (1952-1967) and Rev. Samuel M. Gatson (1973-1988).
On the 1st Sunday, April 7, 1991, Reverend Karl Nathaniel Flagg, native son of Palatka, accepted the call to serve as pastoral leader of Mt. Tabor and has served for the past 24 years.
Since "Thanksgiving" (November 1997), the church has continued to worship the Lord and serve our community from its present campus at 4909 St. Johns Avenue, situated across from St. Johns River State College. Pastor Flagg states, "We have come this far by faith, leaning on the Lord. Our mission and purpose is to Exalt Jesus Christ, Equip believers, Encourage Fellowship, Experience the Holy Spirit, Edify disciples, and to Evangelize the community." For the past 25 successive years, Reverend Flagg has served as pastoral servant. The sanctuary at Mount Tabor provides a unique spirit-filled, compassionate and caring environment to celebrate and worship. You are cordially invited to anticipate and participate in the worship experience where we learn the principles of living a Christian lifestyle and demonstrate unconditional love to all humanity.